The 420 Cruise #7
April 22 @ 5:00 pm

-

11:00 pm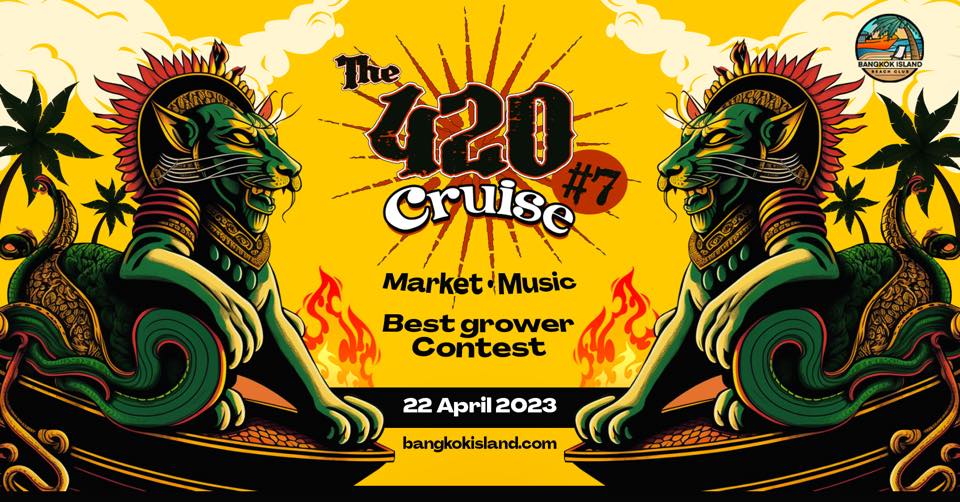 Welcome to our 7th Edition of 420 Cruise : Blazing on April 22 !
420 cruise is a fun packed adventure cruise with Live music, Djs, Mcs and of course our favorite Green Stress relief all of it on a magical boat cruising down the river in central Bangkok.
The boat is packed with a crazy market featuring 10 different dispensary to choose from with the freshest flowers, the tastiest edibles & More .But the party doesn't stop there – also got some good vibe live band to start playing reggae classics , but also some heavy Psychedelic Rock, A Live Hip Hop Cypher, The First Reggae Sound Clash in Thailand, Special Show by Codeine 420…. On 4 22 it's cruising on a wave of good vibes and positive energy.
Don't miss out on the best way to celebrate 420 this year on Bangkok Island.

WHAT TO EXPECT
________________
Green MARKET
with various dispensaries, papers, buds, seeds and accessories vendors.
Best grower CUP
After our previous winners, who will get the trophy for the best 420 Cruise strain? Judges will be randomly picked within the guests.
Great DJs
they'll have you dropping it like it's hot in no time. You won't be able to resist busting a move on the dance floor and showing off your best moves.
Sunset Cruise on the boat
Step aboard our boat and experience the magic of a sunset cruise. As the sun dips below the horizon, the sky explodes into a kaleidoscope of colors that will take your breath away.
Munchies on board
We've got you covered with our amazing selection of munchies on board. And of course, we haven't forgotten about our cannabis enthusiasts – we've got a range of edibles that will take your experience to the next level. So sit back, relax, and indulge in some seriously satisfying munchies as you cruise along the water.
Best people
If you're looking for an unforgettable experience surrounded by the best people around, then look no further than The 420 Cruise! They share one thing in common – a love and a passion for having a good time.
ARTISTS LINEUP
Puean Din Live Band playing Classic Reggae & some original songs good Vibe guaranteed.
Super Fly Cypher Rap improvisation (English) with Rory Breaker Morant
Spitting Dicks Heavy Loaded Psychedelic Rock Live Band
Friendly Sound Clash Gonja Hi Fi Vs Olbi Iyah
Codeine 420 & Friends (Twin-T420, JIRA73, RaTa, Dj Rujaya)
TICKETS
Early birds: 420 THB + 1 free drink
Regular: 520 THB + 1 free drink
Group of 4 people + 4 free drinks = 1,680 THB (420 THB/pers)
At the door 620 THB (if not sold out)
Saturday 22 April 2023
Check-in 5.00 PM
Boat leaves 6.30 PM
Boat back at 11.00 PM