Ganjana

Ganjana is known as the temple of Thai weed, and it's where Bangkok's true cannabis lovers meet. It's more than a store; it's a community for serious weed enthusiasts and growers who've been in the game long before it was legal. Ganjana is run by a group of expert growers named T-Rex, Power Puff, Olive Farms, and Underground Grower, who all take pride in their craft. The place is all about high-quality weed and making sure customers love what they buy. They encourage you to really see, smell, and taste the cannabis to appreciate its quality. You can tell this is a spot for those who care deeply about weed and its culture by the picture, which shows glass artists Reefah and Andy Roth, the Thai Terps owner, and the folks behind Delta 9 and Sunseeker Seeds. Ganjana is a champion for top-notch, locally-grown cannabis, standing strong amidst a sea of imports. It's not just about sales here; it's about being part of the growing Thai weed community.
Address: 17, 12 Kluai Mai Alley, Lat Phrao
Never not high

Never Not High is a famous cannabis shop in Chinatown's Soi Nana, known for its strong community ties and cultural importance. Here, you can find a top-notch selection of cannabis from respected growers like Craftzman and Zane Garden. The staff are artists and musicians who share their love for the plant by educating visitors about good growing practices and the benefits of local cannabis. The shop is a community hub that offers learning opportunities and encourages teamwork. They are dedicated to a respectful and informed approach to cannabis use, making the shop more than just a place to buy; it's a place to learn and grow together. Tops, the shop's budtender, is well-known for his knowledge and enthusiasm, making him one of Thailand's most dedicated cannabis professionals.
Address: 78-80 Soi Nana, Chinatown
Fat Bud's Weed Shop

Fat Bud's Weed Shop Ekkamai in Bangkok offers a standout cannabis experience with a unique blend of nostalgia, quality, and community. The shop boasts an impressive price-to-value ratio, with a selection that spans from premium to affordable strains, ensuring that every customer finds something to suit their needs and budget. The '90s grunge-inspired decor and the opportunity for visitors to leave their mark on the wall by signing or sticker-bombing create a memorable and personalized touch. This practice not only decorates the shop but also allows customers to become a part of its history, making Fat Bud's a must-visit for those seeking both a product and an experience in Bangkok's cannabis scene. They also have a storefront in Sathorn and On Nut.
Discount Code: HIGHTHAILAND to get at least 10% off their regular prices and profit from their exclusive member pricing system instantaneously.
Address: 13, 3 Sukhumvit 65, Ekkamai
High Society Cannabis Club


High Society Cannabis Club is a favorite spot for cannabis lovers in Bangkok, located over a fancy donut store in the foodie heaven of Sukhumvit 31. It's a place where you can feel at ease and trust you're getting great service and high-quality cannabis. They have a fantastic range of cannabis flowers, chosen from the best growers in Thailand like Canis Major, Underground Grower, Power Puff, Olive, and Dank Ruamrudee, for a top-tier experience. While enjoying the best cannabis, you can also treat yourself to delicious snacks like donuts and cakes, making your visit both delightful and satisfying.
High Society Cannabis Club has multiple locations, but be aware that there are other shops with very similar names.
Address: 245/14 Soi Sukhumvit 31, Asoke
Sukhumweed

Sukhumweed is a well-known cannabis store in Bangkok, set up by Soranut "Beer" Masayavanich, who went from being a child actor to a cannabis business owner, activist and supporter. The store is changing how people in Thailand think about and use cannabis. At Sukhumweed, you can find a great selection of cannabis from some of the best growers in Thailand like Canis Major, Underground Grower, Power Puff, Olive Farms, T-Rex, Yummy Frosts, and Big Roll Genetics. They offer a lot of different products to meet all kinds of needs, including buds, ready-to-smoke joints, edibles, and gear. The place has several themed areas to make your visit interesting, like a growing area, or a skate ramp. Plus, the team is always there to teach and help you pick the right cannabis for you. Beer's journey and the store's focus on learning and leading the way show that Sukhumweed is more than just a shop—it's a key part of the local community.
Address: 245/14 Soi Sukhumvit 31, Ekkamai
Bong Party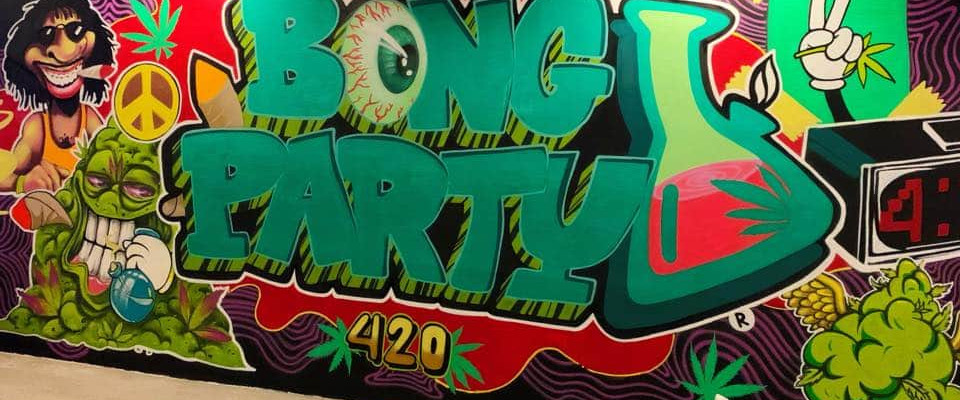 Bong Party is a well-known name in Bangkok's cannabis circles, with a history going back over 12 years, long before it was legal to use cannabis in Thailand. They are known for their deep roots in the cannabis world, offering a range of smoking accessories and growing equipment. The shop provides a unique local experience that sets it apart from others mentioned, with a fun twist: a neon-lit indoor mini-golf course that adds a playful vibe to your visit. They're serious about their name, offering a large selection of glassware for smoking. Plus, they offer quality cannabis flowers from some of the top Thai growers like T-Rex, Power Puff, and Olive Farms.
Address: 1159 Srinakarin Rd, Srinakarin
Bobby's Exotics


Bobby's Exotics is a standout cannabis shop in Bangkok's Ari neighborhood, known for its vibrant street art and trendy cafes. The shop's essence is deeply rooted in trap music and hip-hop culture, reflected in its thoughtfully crafted interior design and attention to detail. Their unique mylar bags, shaped like Bobby the Bear, exemplify a coherent and creative branding strategy that resonates with the clientele. Bobby's Exotics prides itself on showcasing some of Thailand's finest cannabis growers like Underground Grower, Canis Major. Fire Farms or Zane Garden, ensuring the pedigree of their strains is known to customers. This commitment to quality and culture makes Bobby's Exotics a beacon for cannabis connoisseurs and hip-hop aficionados alike, contributing to Ari's reputation as a hub for the cool and contemporary.
Discount Code: HIGHTHAILAND to get 5% off your total bill. Can be used with any discounts promoted at the shop.
Address: 466/20 Phahon Yothin Rd, Ari
Four Twenty – High Garden

Four Twenty High Garden is famous for its amazing rooftop lounge on Asok Road, where you can enjoy great cannabis, have drinks, and eat with a view of the city's high buildings. It's a peaceful spot right in the middle of busy Bangkok, perfect for relaxing in the city's buzz. It's also the only place on this list where people who don't smoke weed can hang out without feeling uncomfortable. As part of the well-known Four Twenty Dispensary chain, it keeps up the brand's good name by offering top products in a cool setting. It's a great choice for anyone who wants to chill and have a good time.
Address: 32/9 Sukhumvit 21 Rd, Asoke
PHC – Pretty High Cannabis


Pretty High Cannabis (PHC) is a popular spot for cannabis in Bangkok, known for its unique vibe. Founded by hip hop artists Younggu and his friend Yungzu, PHC is all about bringing people together, sparking creativity, and building a sense of community. Originally from Younggu's Pattanakarn area, PHC moved closer to the buzz of Ekkamai, right near Younggu's nightclub. The place promotes Thai-grown cannabis and encourages using it as part of a healthy life. They take pride in teaching about cannabis and using it in ways that are good for the environment. PHC is also a hotspot for hip hop fans and a place where many famous thai artists chill out during weekends or before performing at the Urban Music Bar next door. If you're interested in Thailand's hip hop scene, PHC is the place to be.
Address: 126, 37 Park Avenue, Ekkamai
Dr. Green

Dr. Green Bangkok is renowned for its welcoming three-story establishment that reflects a commitment to medicinal cannabis. Located conveniently near Asoke, the shop's all-green interior and the staff's warm approach create a positive atmosphere. It offers a variety of high-quality strains, smoking accessories, and educational workshops, focusing on the holistic benefits of cannabis. Dr. Green, both a surgeon and an educator, pioneered the medical cannabis movement in Thailand, advocating for its therapeutic use. The shop's cultivation of high-quality CBD and future THC strains demonstrates its dedication to advancing cannabis understanding and appreciation within Thai culture. 
Discount Code: HIGHTHAILAND to get at 15% off
Address: 93 Sukhumvit Road, Asoke 
Final words
We made this list of the top 10 weed shops in Bangkok just like we would for our best friend. Tell us what you think! If you visit any of these places, please leave a comment with your thoughts or write a review for the shop. And if you know a great shop that we didn't list, let us know in the comments.
To keep your finger on the pulse of Thailand's evolving cannabis culture, be sure to follow us on Instagram. For deeper dives and commentary, don't miss out on the insights from Thailand's own curious cannabis commentator – Mendel Menachem – on Instagram. Stay curious, stay informed, and explore responsibly.
Frequently asked questions