A Dispensary previously located in Chatuchak Market, now moved to Sukhmvit Soi 12 at the 3rd floor Korean Town Sukhumwit . Comes with nice owners and a good selection of buds. Check them out
Official HighThailand Review
Best Buds: The Resurrection 
Location
Most Bangkokians—locals and expats—have visited the bustling barbeque joints on the ground floor of Korea Town, AKA Sukhumvit Plaza, without noticing that additional floors and businesses exist in the above stories. Best Buds, located in a corner on the third floor amidst three South Korean flags and a sea of nothingness, may be the only reason anyone will ever have to journey up those floors.
The Shop
Best Buds is a cross between an old ski lodge and school house. The dispensary's walls are wood paneled with framed cannabis education materials hanging throughout the shop. Wood shelves on one side of the shop display various cannabis accessories and paraphernalia: gravity bongs, one hitters, pipes, grinders, and rolling papers. A marble counter on the opposite side of the dispensary displays fifteen strains of cannabis, each with a dedicated magnifying device for the customer's close inspection. One of the owners, the Best Buds themselves, is always around to answer questions and provide guidance.
The shop houses a smoking area where customers can either roll and light up their own joints or borrow one of the dispensary's gravity bongs. This smoking area has plush seat and small couches and invites an intimate and social gathering amongst friends old and new.
The Vibe
The vibe of the shop is unassuming, friendly and inviting with customers hanging out and conversing with each other and the Best Buds. A steady stream of customers comes through the shop at any given time, checking out accessories, eyeing and smelling buds, eating complementary ice cream, and choosing either to lounge in the smoking area or move on.
The Best Buds' goal is to have a shop with the feeling of "friendship amongst smokers" and of entering "a friend's house". Best Buds is for sure a stressless environment. People enter curious, perhaps a bit pensive; and leave relieved, happy and relaxed.
Best Buds Origin
Best Buds was born in Chatuchak Market soon after the June 9th cannabis legalization. Their shop was small, but bright and sleek with ample high quality weed and charm. The shop lasted a mere three weeks before it was shut down by the market's managers as a result of an ordinance banning cannabis enterprises on government property.
The partners, all university friends, were surprised and disappointed at being shut down, but as they put it: "We don't give up. We smoke up." The Best Buds quickly turned their attention to locating a new property and landed in Korea Town in mid August. They have quickly found a new clientele of mostly tourists staying at the many hotels in the vicinity.
The Shop will actually have its grand re-opening on September 24 at the auspicious time of 420 PM. The Best Buds promise this opening event will be a fun and social one with special promotions, food, educational material, a DJ and more. A second branch is currently being discussed with opening later this year.
Cannabis Culture through Education and Support
The Best Buds, old friends from long ago university days, came about their first cannabis experiences in the United States and Amsterdam. Upon returning to Thailand they found that the same understanding and appreciation for cannabis was lagging behind. Once legalization came about, they set to open their shop with the intention of providing access to high quality cannabis coupled with education.
The shop's school house feel is deliberate. The Best Buds routinely take novice customers through the shop stopping at each enlightening poster to explain the different strains of cannabis, the benefits, the effects and recommendations for how weed virgins should use their first bud. "There is a negative stigma regarding cannabis in Thailand and there is also an education gap when it comes to cannabis. The best way to overcome this is to fill the gap through education and push back against the stigma."
"At the same time we want to help support Cannabis Culture by working with local businesses. We sell and display rolling paper and accessories from Ganjita & Co., who are friends of our shop and a great Thai company contributing to the local cannabis scene. We also source weed from some of the more established Thai farmers as well as from some smaller farmers in Korat and throughout the country."
Your dedicated correspondent picked up two of the Korat strains and will review the strains in a subsequent posts.
Conclusion
Best Buds was one of the first dispensaries the HighThailand team visited after cannabis's legalization, and were saddened when Best Buds was first shut down. However, Best Buds has now risen at Sukhumvit Soi 12 like a phoenix emerging from the ashes of so many smoked joints. We salute Best Buds's resilience.
We also are fans of the Korea Town location and the ability to smoke a joint on location and then chow down on some fine Korean Barbeque. We recommend Best Buds for its convenience, ability to smoke on the premises and access to delicious food. Spark that joint—light that bbq, HighThailand is coming to dinner.
Opening Hours
Monday
2:00 pm - 10:00 pm
Tuesday
2:00 pm - 10:00 pm
Wednesday
2:00 pm - 10:00 pm
Thursday
2:00 pm - 10:00 pm
Friday
2:00 pm - 10:00 pm
Saturday
2:00 pm - 10:00 pm
Sunday
2:00 pm - 10:00 pm
Great flowers and very resonable price
The staffs were really friendly, and gave me great recommendation to the strains. Price range from 450 - 750 baht, very good price at the heart of Sukhumvit. Awesome flower qualities as well.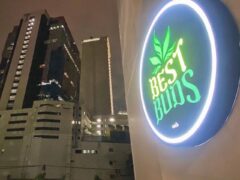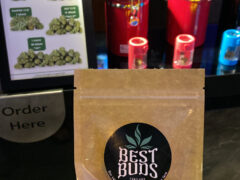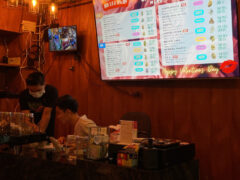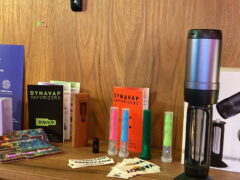 Best Buds Best Birthday
So I will start with a warning of possibly bias but please know its well deserved, I have been friends with the owner chatting on discord with a big community of Thai Canna enthusiasts and decided to hold a birthday social at Best Buds and boy was I glad I did! Best Buds is located at the back of Korea Town so you're close to incredible food when the munchies kick in right off the get go, walking in I was greeted by the staff who were showing off some flower to customers and discussing recommendations (something I love to see) of about 10-15 strains all high end and on different terps and genetics like a bud bouquet of smells and flavours. Best Buds location has a coffee shop/Canna bar style vibe with amazing neon lights, big tv screen, informative posters and dope graffiti on the back wall, oh and did I mention they have a vintage games machine with street fight?! That's cool as fuck. Me and a few friends spent my birthday chilling in the smoke room at the back chatting with people coming and going and meeting new people while vibing, I got some Studio 54 a hard to find strain at the moment (Which was my second fav strain of the whole trip, i wish I could put the mouth-watering sweet candy exotic terps into writing that could do it justice) which I more than happily smoked through the night keeping me couch locked on the sofa as the music floated through my ears. One major reason I love this place is the incredible owner Vayu who is a hospitable vibe on legs, (I know I've said vibe a lot but its justified) not only did he make my birthday there chill and made me feel a bit like a king he surprised me with honestly the best tasting birthday cake I've ever had, it was a night to remember, I will be stopping off there again as soon as I'm back and suggest you all check it out too!