A really cool Dispensary in the Ekkamai area with a cool vibe and a large selection of flowers
Official HighThailand Review
Fat Bud's Weed Shop: A Journey in Time
The Shop
Fat Bud's Weed Shop is located at Sukhumvit Soi 65 with a second shop open in Sathorn. The Sukhumvit Soi 65 shop is a convenient five minute walk from either the Ekkamai or Prakanong BTS stations.
A trip to Fat Bud's is a journey back to the glorious '90s, when grunge was in, comfort was key, and the world was not plastically manicured and Instagram ready (though, Fat Bud's does have great IG game.)
The vibe is casual . . . super casual. Visitors' autographs cover one wall, while stickers plaster the remaining spaces amidst posters, placards and various cannabis themed art pieces. A white board, squeezed on one wall between old Coca Cola ads, displays the day's strains and prices, ranging from THB 250 to THB 800.
The dispensary's more than twenty local strains, including three CBD strains, sit atop and below a three meter metal table in the middle of the shop. That table is also covered in stickers, flags, comic books, CDs, rolling papers, mini skate boards and packaging. A small comfy couch sits behind the table—an easy place to sit and quickly pass an hour.
The staff/owners are available to recommend strains, talk about life, hang out and just have a relaxed good time. And just like the shop, the staff are super laid back, friendly, open, warm. Genuine good folk to have a great conversation with and share their experiences.
The shop sources strains from 12-15 local farmers. The strains vary in grade and quality which is reflected in each strain's price. The ownership stresses that "it's important that everyone who is looking for cannabis has access to it and can find what they are searching for. We even have a THB 100 organic Jamaican strain available to those interested in other styles of cannabis."
As of the drafting of this review, your dedicated correspondent tried the shop's Galactic Jack bud, and can confirm its high quality. A strain review with further details will follow. I wish I also tried the Jamaican, perhaps on my next visit.
Community through Communication
Fat Bud's Weed Shop follows a philosophy of friendship, community and having fun through cannabis. It is this philosophy which motivated the owners to open the shop once cannabis was legalized on June 9th. Community, engagement, positivity and fun are the goals; profit is an afterthought. The proprietors regularly patronize and socialize with other community cannabis shops and are also supported by other cannabis ventures in Bangkok such as Sukhumweed and PHC.
Customers and well wishers often come in, hang out, ask questions, relax and enjoy the conversation. Sales and purchases is not the point. "We get young people in their 20s who come in and want to try cannabis for the first time. They ask us questions and we try to guide them towards appropriate strains for beginners. At the same time we have old timers in their 70s who know exactly what they want and are happy to see all the strains we have. Other folks who just want a little bit of familiar weed buy our organic lower grade strains, which they love, and which is actually pretty good. We love to see how happy everyone is. That's really the point of it all."
"I personally use and advocate CBD for therapeutic purposes. After years of using pain killers, acupuncture and other physical therapy for various back ailments, I tried CBD for the first time and found the use to be 'life changing' and the best option for treating my back pain. I am happy to share my experience to help other people in pain who may have not thought of CBD."
Fat Bud's as Part of Thai Cannabis Culture
"We want to be part of the story of Thai cannabis, and part of that history and have fun while doing it. Our goal is to be one of the first OG shops in Thailand. Its currently the wild west out there, and we are building and learning to fly the plane at the same time. Our shop is developing along with the rest of the market in Thailand. A lot of it is trial and error, at the beginning we were getting some really low quality products with stems and seeds, sometimes we wouldn't even get what we ordered. But as we build relations with our farmers, the product improves and we have been lucky to get some good high quality buds. We are really committed to working with and supporting the local farmers."
"If things keep going and developing in the right direction, Bangkok can be the new Amsterdam. We can bring back so much more tourism and a whole new way to bring in money for the country. It will be really good for the country. We want to be part of that story."
Conclusion
Fat Bud's is a throwback with an OG, familiar and accessible vibe. This vibe and the absence of current pop culture remind us of cannabis's purity and innocence, in particular our own youth and innocence the first time we smoked a joint.
Fat Bud's provides valuable perspective to our newly emerging Thai cannabis culture. Let us not forget why we love cannabis. It makes us feel great physically, but it is also a way for us to engage with our friends, our loved ones and our community. We at HighThailand thank Fat Bud's Weed Shop for reminding us of where we came from, when we smoked our first joint, how we felt, and who we were. We recommend Fat Bud's Weed Shop for its people, its perspective, its buds and urge our readers to take a trip back in time to Sukhumvit Soi 65.
Opening Hours
Monday
10:00 am - 8:00 pm
Tuesday
10:00 am - 8:00 pm
Wednesday
10:00 am - 8:00 pm
Thursday
10:00 am - 8:30 pm
Friday
10:00 am - 9:00 pm
Saturday
10:00 am - 9:00 pm
Sunday
10:00 am - 8:30 pm
Best weed best prices best service
The guys and girls at fat buds are amazing. The prices are the best I've found for the quality. The weed is always a great smell and taste and everyone is so helpful. 10/10
Splendid place
Store with a variety of great weed to choose from. Very friendly and helpful staff. They also have an amazing place to smoke up on the 3rd floor. Must go!
Fat Buds Family
Walking into Fat Buds is like walking into a family, you're instantly in awe of all the cool vintage artwork, books, retro collectables and the incredible signage wall, within about 5 minutes of being there I had already made friends with some customers and the staff that's the kinda vibe fat buds is, it's like a family! The boss and staff were more than happy to talk about their amazing selection of flowers which they have a beautiful variety of, I got some Denver Diesel (Classic pungent diesel sativa) and Ice Cream Cookies (Breakfast yogurt and honey terps) which became my go too on the go strains for my trip, everything is more than reasonable prices and if you're looking for that higher quality and diverse bud with a more relaxed vibe Fat Buds is definitely your place! With the smoking social room on its way all I can see is constant growth and evolution with Fat Buds, it's somewhere I'm rooting for as a massive fan I can't wait to see whats coming.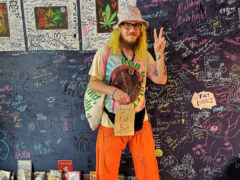 The most welcoming dispensary in Bangkok
First time I have ordered was online through delivery, and the communication was both efficient and friendly and got my stash within 20 minutes of payment. Quality was really good and good value for money too. I ordered a mix of high grade and mid-grade weed to see the quality. The second time I have bought from this dispensary I wanted to visit in person to check out the place and also the weed selection available. It is a 5-10 minutes walk from BTS Ekkamai, so very convenient to visit and just a soi away from Sukhumvit Road.Upon entering I was greeted by the very friendly staff who straight away made me feel at home. There was probably 20 or even more strains to choose from, and with some trains just 100THB per gram there is definitely something for everyone. The atmosphere was really nice and the budtenders let you open and examine the jars at your own pace, not rushing you to buy or trying to force you to go for the higher grade (more expensive) weed. The owner was really friendly and nice to talk to and he even gave me some complimentary weed to try. Quality was consistent with the first time I bought. The free stickets are always nice and sometimes you get some candy too which is an added bonus haha. The weed is good but what keeps me coming back to this dispensary is the awesome staff and very welcoming atmosphere. They are building a community of like-minded individuals and for that I applaud them.