Located in Patong they offer a large selection of more than 70 strains imports and local, Hash, Wax, Shatter and other Cannabis Products and related Accessoires such as Rolling Papers, Bongs, Herb Grinders, Pipes, Edibles, Pre-Rolled Joints, Blunts, Packwoods, Backwoods, Moonrocks and much more. 
Products
Cannabis infused food/drinks
Opening Hours
Monday
10:00 am - 1:00 am
Tuesday
10:00 am - 1:00 am
Wednesday
10:00 am - 1:00 am
Thursday
10:00 am - 1:00 am
Friday
10:00 am - 1:00 am
Saturday
10:00 am - 1:00 am
Sunday
10:00 am - 1:00 am
Awesome Weed Shop
i stayed with 2 friends at this amazing spot during our holidays in phuket. we visited Jerome and his team every day and sometimes we even stayed there the whole day. very good and tasty weed and you can smoke in the bar or choose a bong, it´s like heaven! we will be back for sure!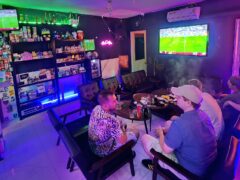 Great Quality Weed In Patong
Standing out like a jungle oasis about halfway along Nanai Rd Patong stands Phuket Cannabis. With heaps of strains of weed to choose from in bud form and also some great pre rolled joints that makes life easy and you can choose to smoke in or takeaway. The staff are welcoming and after your first visit you honestly wont go anywhere else because you will fast become friends with the best weed shop in Patong.
Huge variety of weed
over 40 different weed strains at the shop and many other smoking equipments. you can also have a drink and nice burgers. very friendly atmosphere to hangout and have a smoke. peace!