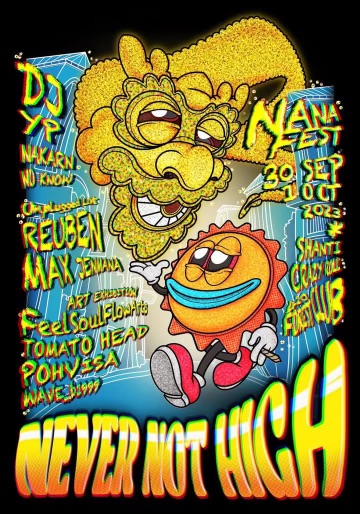 Come and unwind with Never Not High at the Nana Fest
which will be held on the 30th Sept – 1st Oct
Never Not High is hosting unplugged live bands from Reub and Max Jenmana (for time schedule please see below) along with Art Exhibition by Tomato Head, POHVISA, FeelSoulFlowArts by Sai Pattaraporn and Wave_b1999.
Special flowers and services by Shanti Dispensary BKK, Crazy Roll and 420 Forest Club ✨
**No entrance fee! 🔥
grab a friend and come along!
[30/09]
Open: 14.00
Reuben : 20.00
DJ Nakarn : 21.30 till late
[01/10]
Open: 14.00
Max Jenmana: 20.00
No Know (DJ): 21.00 – 22.30
DJ YP: 22.45 till late